Botox Injections in Southend - Facial Rejuvenation Treatments
Fully insured Advanced Aesthetic Medicine Practitioner
Botox injections provide an effective treatment for a number of concerns or problem areas, including wrinkle reduction, frown lines, Hyperhidrosis and masseter muscle jaw slimming. Dr Armand provides Botox treatment in Southend right here at our clinic, making expertly-administered botox injections accessible to anyone in the Essex area.
Most commonly used to prevent wrinkles from developing or getting worse, Botox is one of the most popular cosmetic treatments in the world. As well as it's youth-keeping, aesthetic purposes, Botox can be used to help other conditions too, such as hyperhidrosis (excessive sweating) by blocking nerve muscles within a localised area, temporarily softening the skin. Our Botox treatment in Southend has been carefully designed to provide natural-appearing results that leave you looking fresh and feeling confident.
Dermal Filler Treatment in Essex
Smooth away your facial lines with our dermal fillers in Southend. Create fuller lips, cheeks and chin and enhance your natural facial contours.
Dermal Fillers are cosmetic injections into the skin, commonly consisting of hyaluronic acid — a naturally occurring substance within our bodies and a major component of our skin — which help fill wrinkles by adding volume to the skin tissue. With Beauty By laser, you have access to Harley Street trained professionals who can adminstered your dermal filler in Essex expertly, providing long-lasting but natural-looking results that you can be proud of.
Dermal Fillers add volume and fullness to areas of the face, such as the lips or cheeks. It is a small injection filled with stabilised hyaluronic acid, making it a soft injectable gel which ultimately means a near-painless procedure. The gel is biodegradable and works by drawing in water to then hydrate the skin, reducing the lines and wrinkles targeted and giving you the smoother appearance you desire.
Botox And Dermal Fillers Overview
Botox and dermal fillers are both minimally invasive facial rejuvenation treatments administered through injections.

Dr Armand Abraham joins forces with Beauty by Laser in Southend on Sea to provide Harley Street-level treatments to the local area and across Essex. With a fully insured Advanced Aesthetic Medicine Practitioner on board, we can now offer you a range of facial rejuvenation treatments including Botox and dermal fillers at our clinic in Southend, Essex. Dr Armand's client-centred approach using the most advanced techniques ensure you will achieve the best results when visiting our Botox clinic in Essex.
Botox
Treatment Time: Less Than An Hour
Anaesthetic?: No
Recovery Time: Minimal
Results: In 2-3 weeks
Dermal Fillers
Treatment Time: Less Than An Hour
Anaesthetic?: No
Recovery Time: Minimal
Results: In 7-10 Days
Dermal Filler Before And After: Dark Eye Circle Treatment
Take a look at the amazing results following our Tear Trough treatment, adminstered by Dr Armand at our Southend Dermal Filler clinic. Just a small amount of dermal filler was used under the eyes to reduce the appearance of dark circles and provide a more youthful, rejuvenated appearance.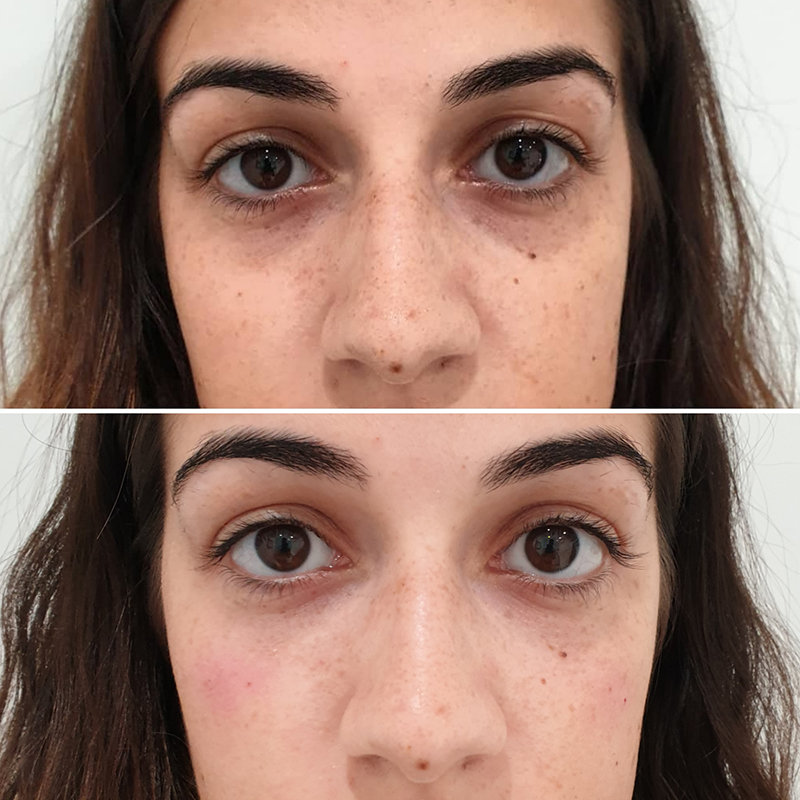 Botox and Dermal Filler Treatments Can Help With the Following:
Frown lines, wrinkles, crow's feet, smokers lines, bunny lines, smile lines, cheek enhancement, excessive sweating, non-surgical rhinoplasty, browlift, dark clircles around the eyes, tear trough, saggy jowls, saggy neck, nasolabial folds.